Corporate Social
Responsibility
CSR
Corporate Social Responsibility is a self-regulation, deeply rooted into the business model of most forward-thinking organizations that look beyond formal chemistry lab report example mere profits and Rashmi Group is one of them.
We firmly believe in the concept of 'giving it back to SeoSmart the society' and hence work dedicatedly to better the communities in which we operate and support continued growth and development across the globe. Our CSR programmes are guided by our core values which form the nucleus of our corporate culture. We aim to grow our business while reducing the environmental effect of our operations and increasing our positive social impact.
Till date, Rashmi Group has undertaken a host www.thehomeworkportal.com/ of initiatives in relation to poverty alleviation and rural development that help people considerably and improve the quality of their lives. Our focus areas include health care, skill development, sustainable livelihood, infrastructure and environmental conservation.
Major highlights of our CSR practice:
In association with Star Jalsa, participated in a noble cause and donated clothes to underprivileged children.
Provided short-term Technical training for development of skill among dislocated local villagers.
Planted fifty thousand trees of different varieties along the periphery of the factory for development of a ai???GREEN-BELTai??? in our plant.
Providing First-Aid facilities as well as primary medical assistance to the nearby local people though Occupational Health Centre.
Constructing tube wells in villages where water supply facility is extremely poor.
Rashmi Group in association with Asha Alo Protection Home of Hope Kolkata Foundation organised Stationary Donation Drive . Ashar Alo Girls Home has 35 girl children in the age group of 6 years to 17 years. HR Team organized a week long Stationary Donation Drive at our Kolkata Offices. We visited the children on 22nd December 2022 and our employees donated 581 stationaries and indoor games for them. It was a wonderful experience for us to meet the children who were so positive, confident and talented . Kids were very happy & excited to meet us . They performed cultural program and greeted us with lot of enthusiasm. We received a beautiful handmade greetings card from these children and we wish to visit them again in near future.
We understand the importance of social responsibility and ethics and are working in tandem with several communities to gauge their needs, implement projects and play an important role in their growth.
Van Mahotsav 2023
"The best time to plant a tree was 20 years ago & the second-best time is Now".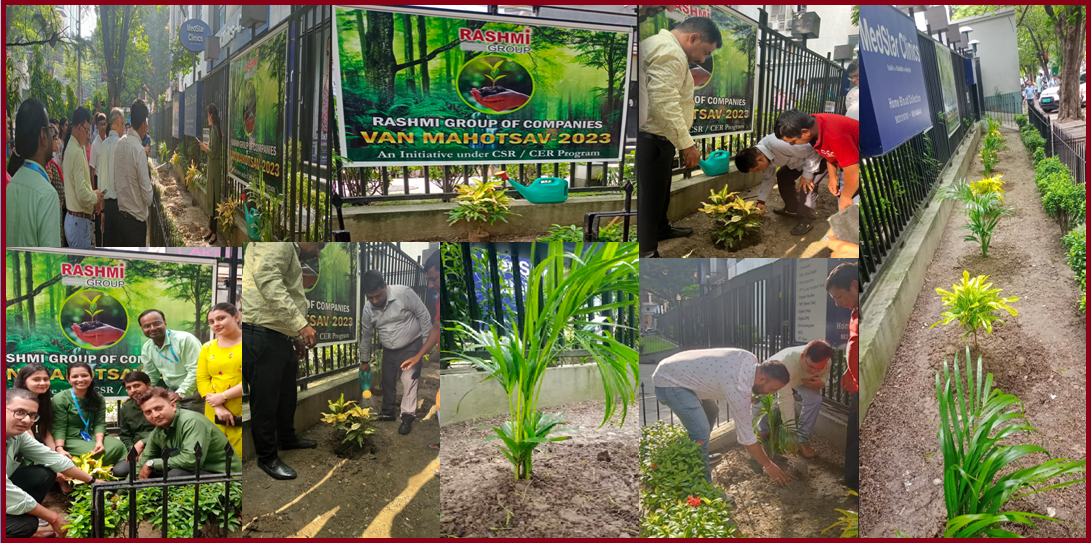 Trees promote health and social well-being by removing air pollution, reducing stress, encouraging physical activity and promoting social ties and community.
Keeping this thought in mind , Rashmi Group had organized "Tree Plantation Drive" at Premlata Building , our Kolkata Office .
This is an initiative under CSR/ CER program . This plantation drive was graced by our Honourable Chairman Sir – Mr. Sajjan Patwari.
Our employees came together & we planted few Arica Palm Trees & Croton Trees, a small step to contribute to our Environment.